Keer Tanchak & Janet Werner: Romantik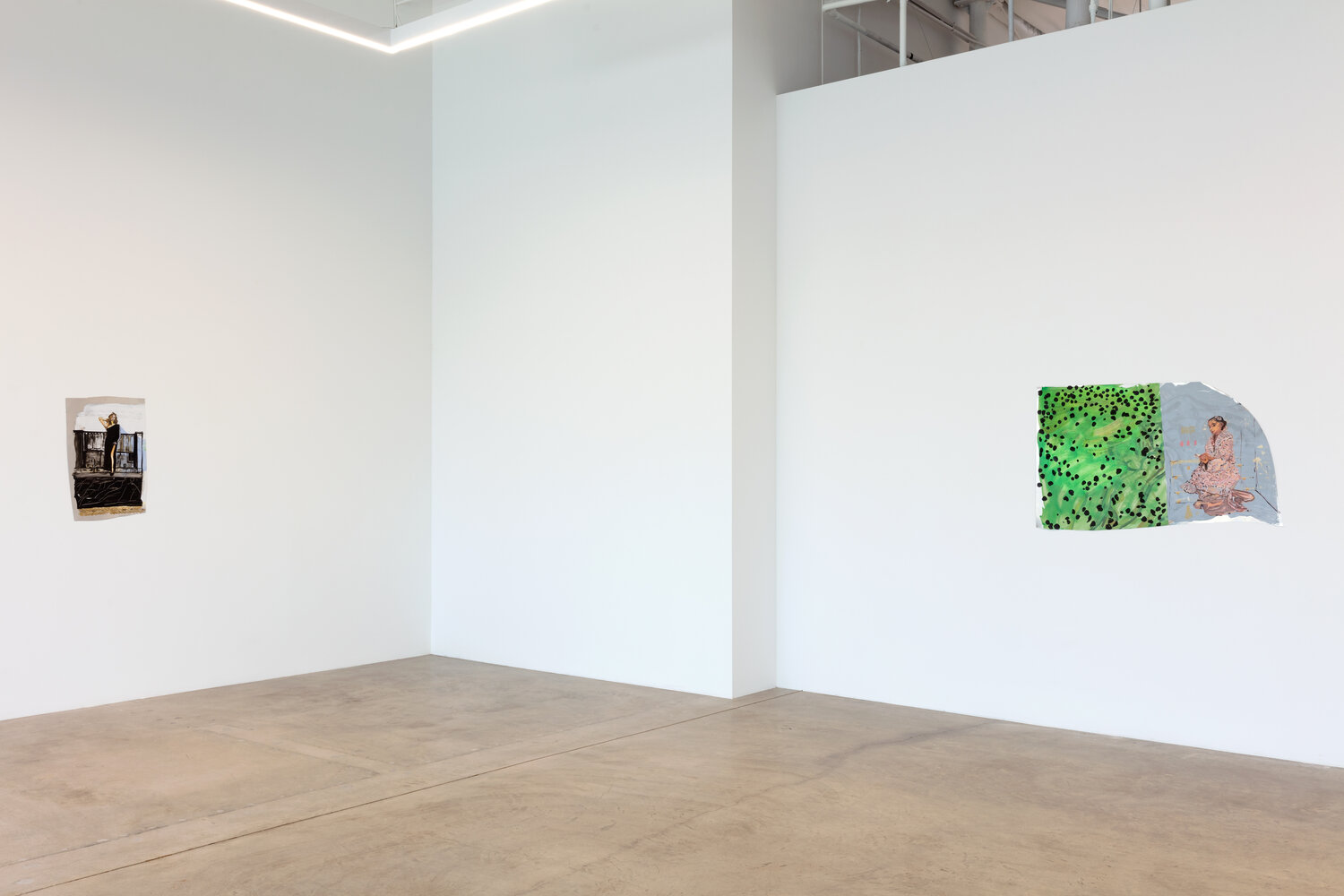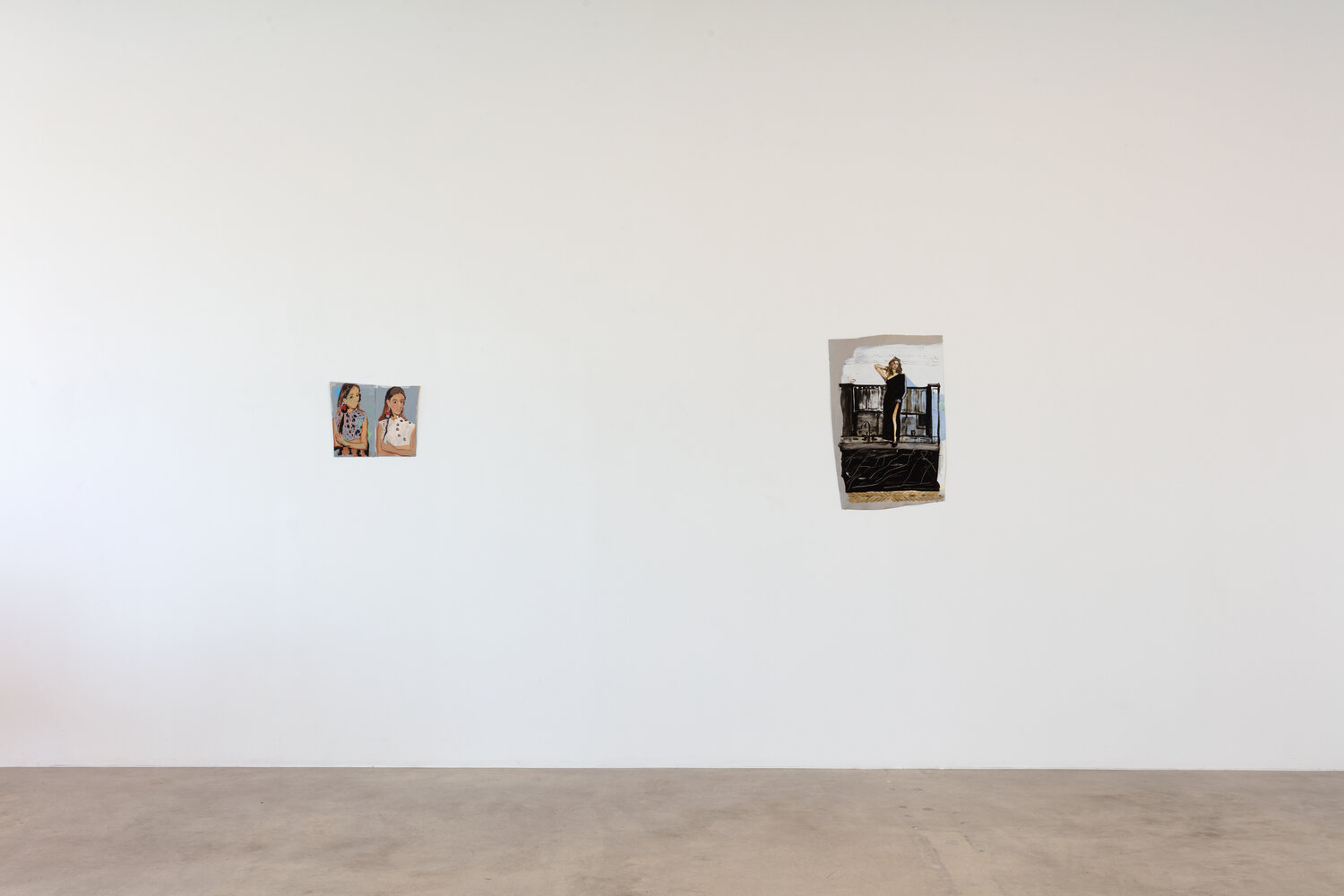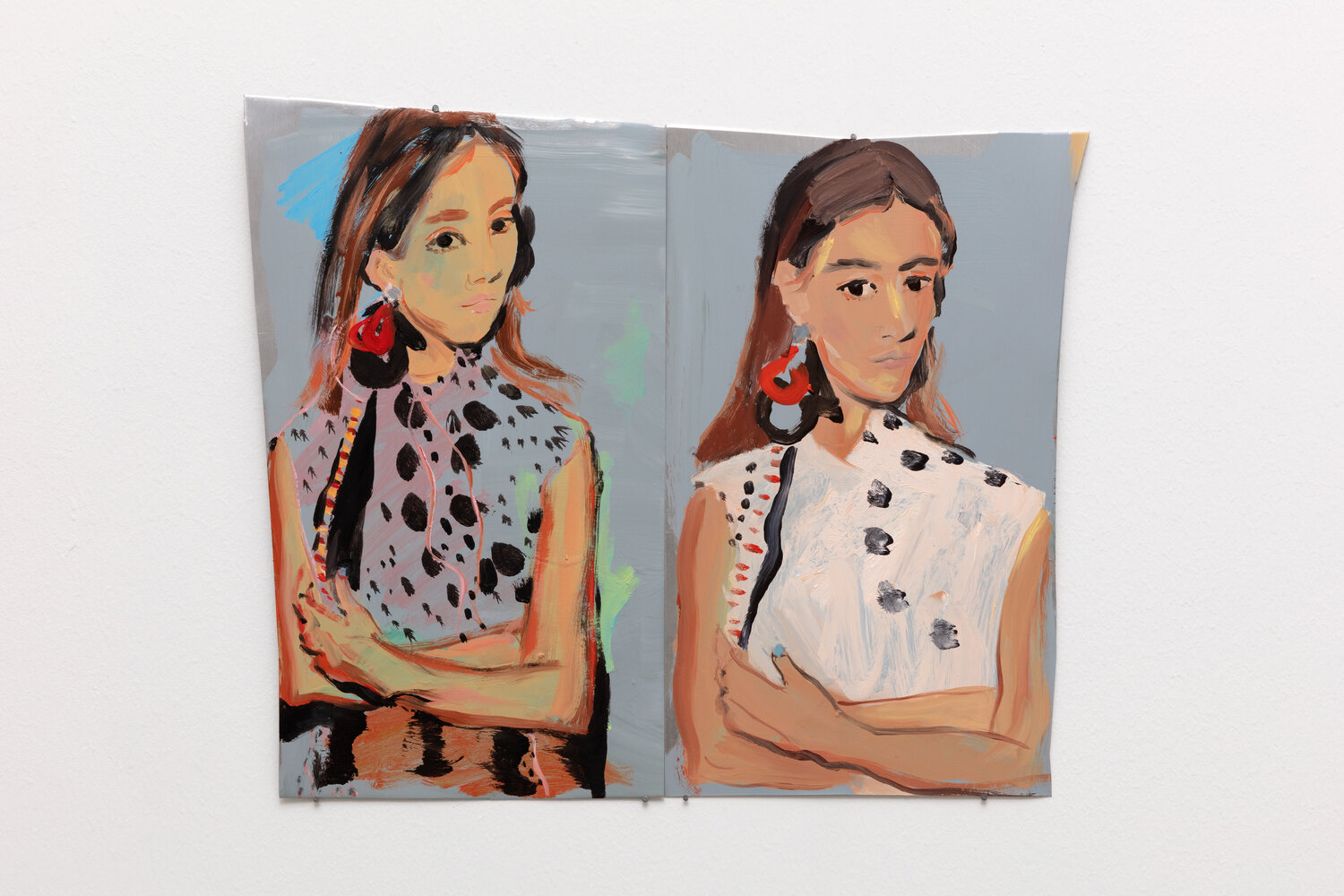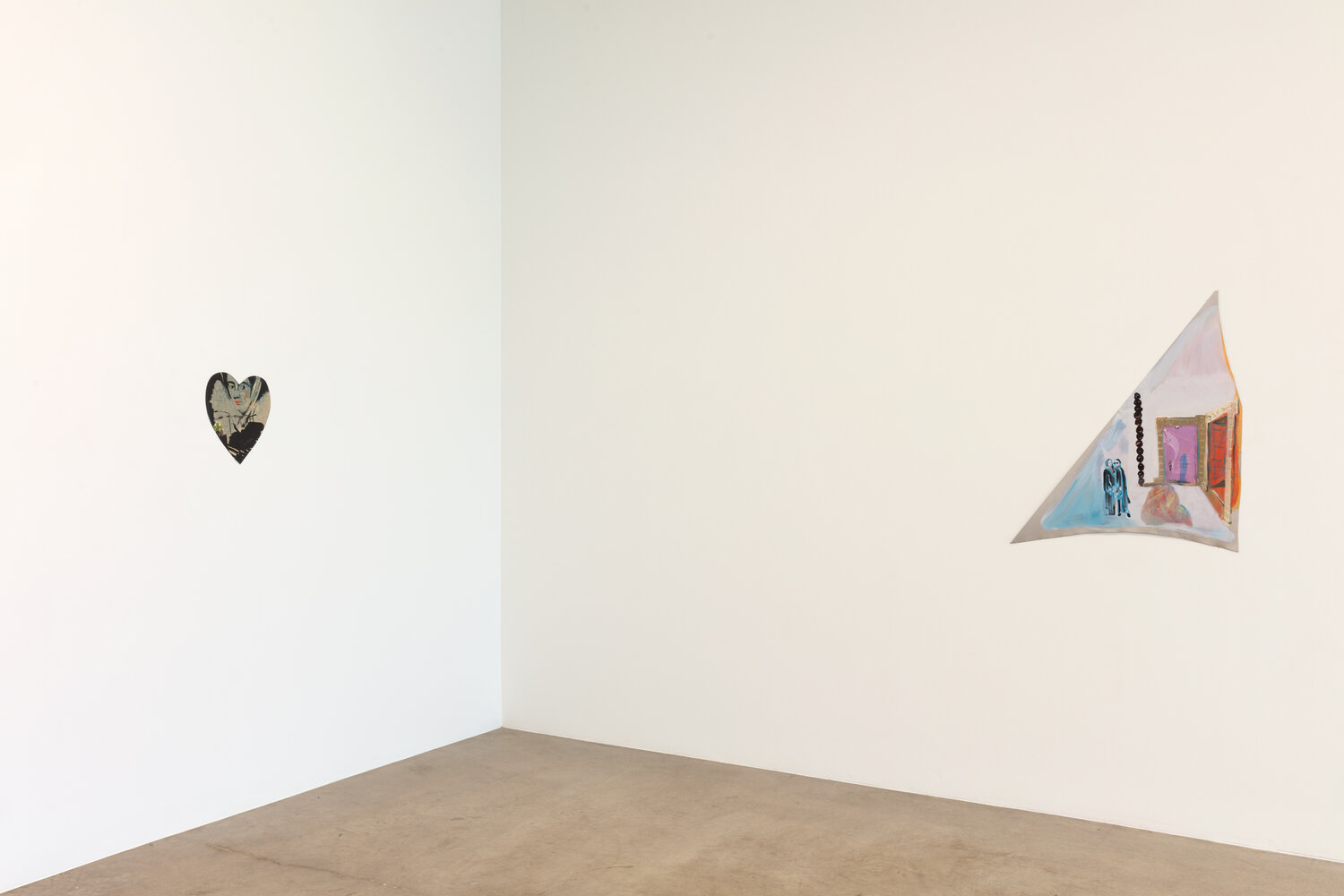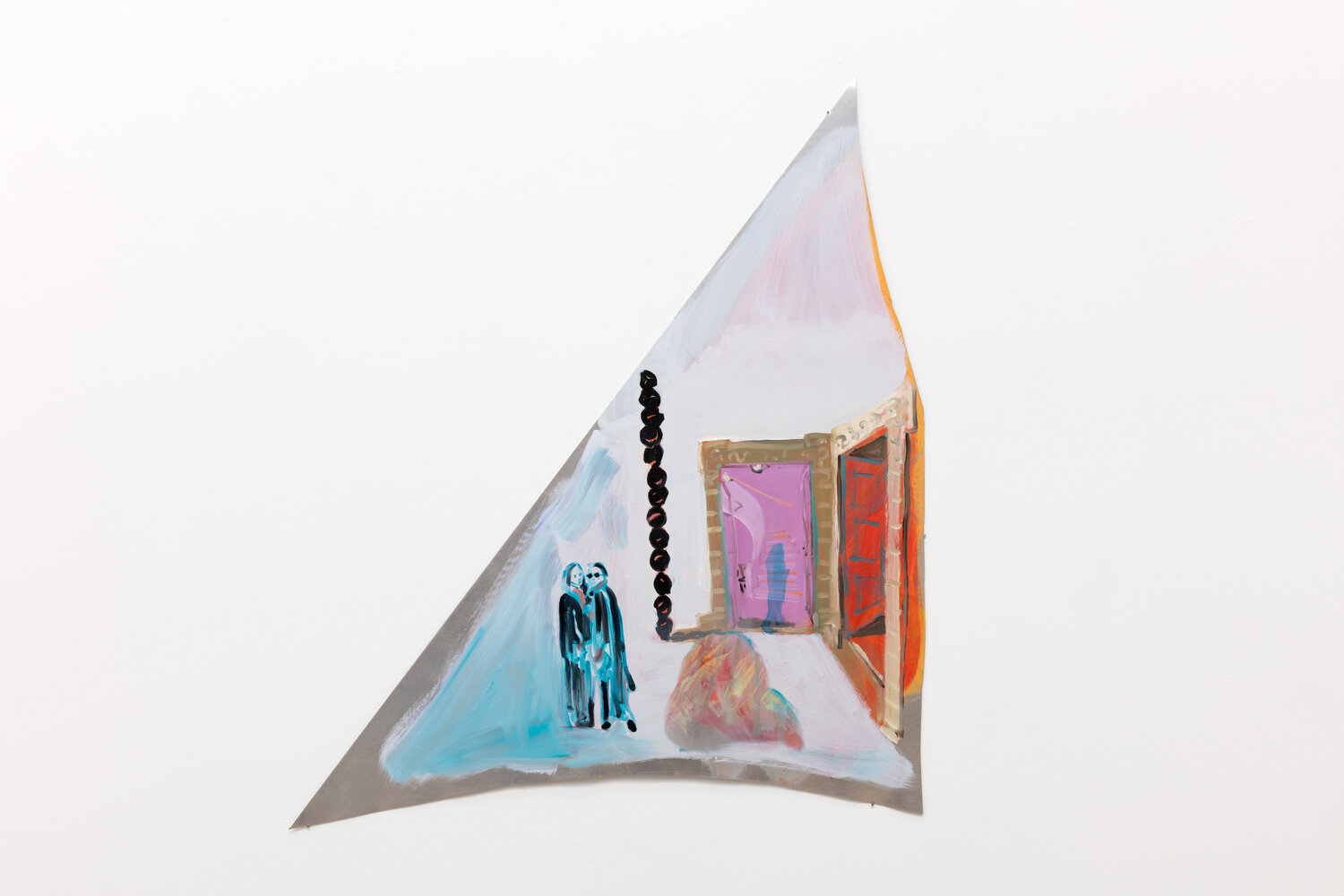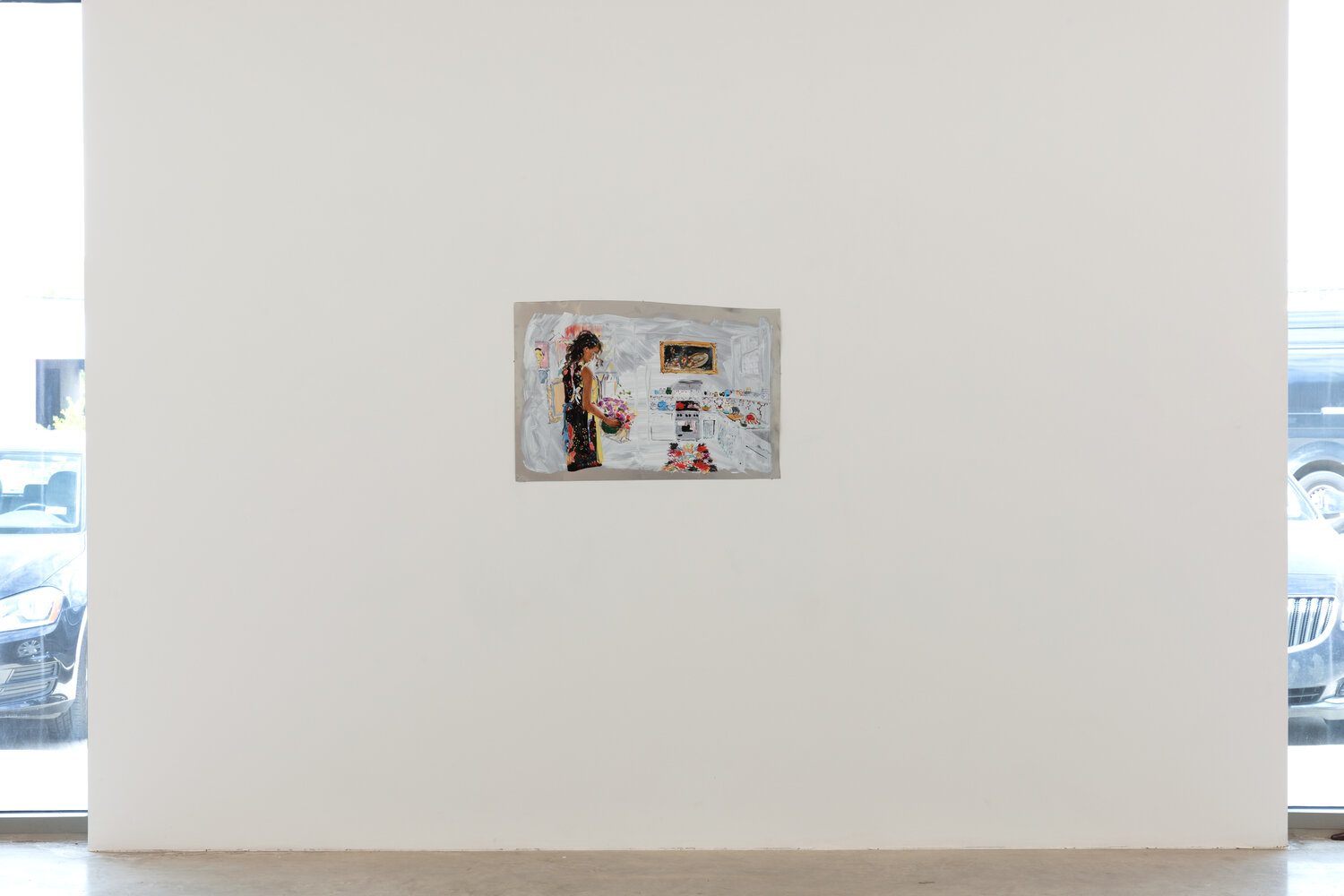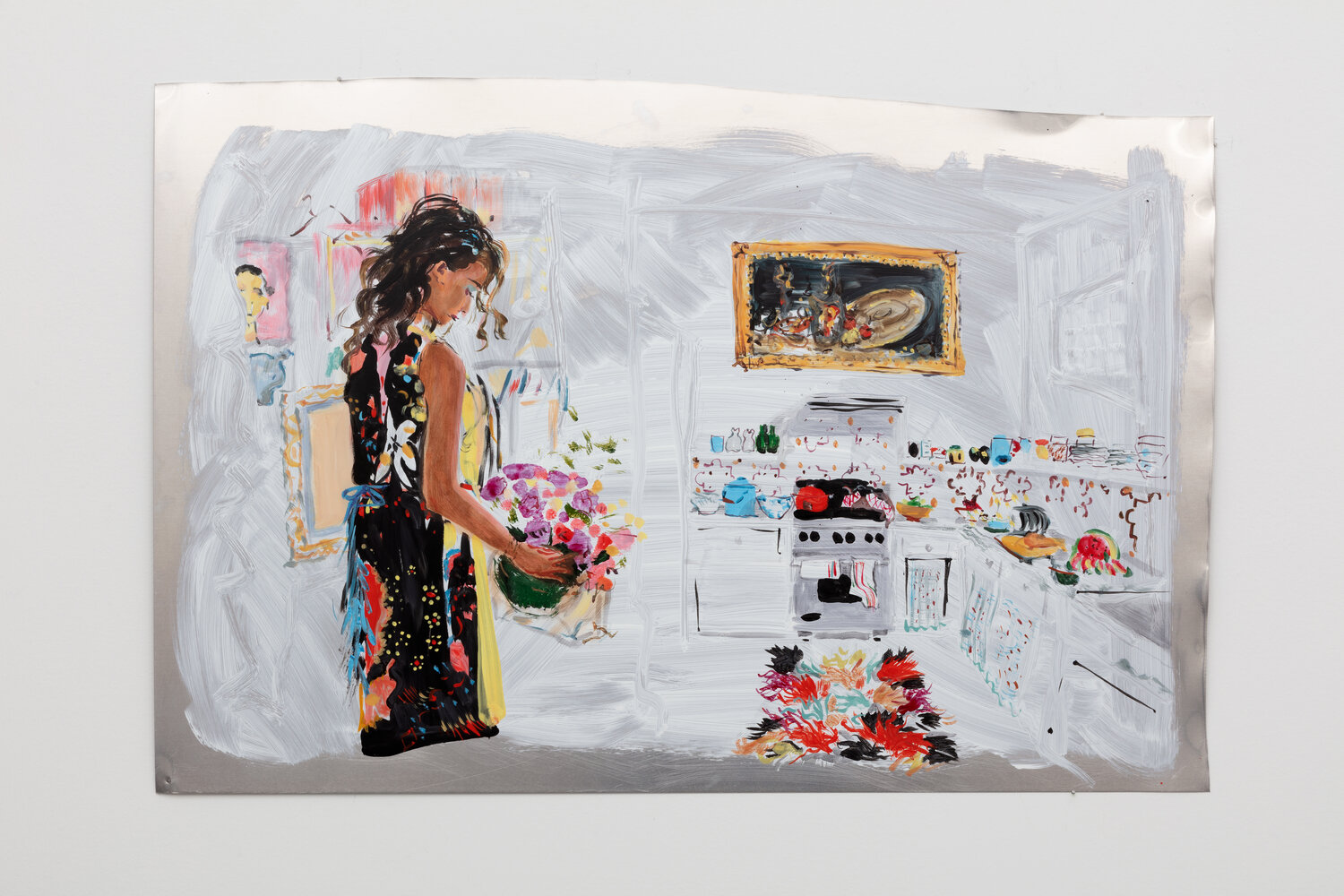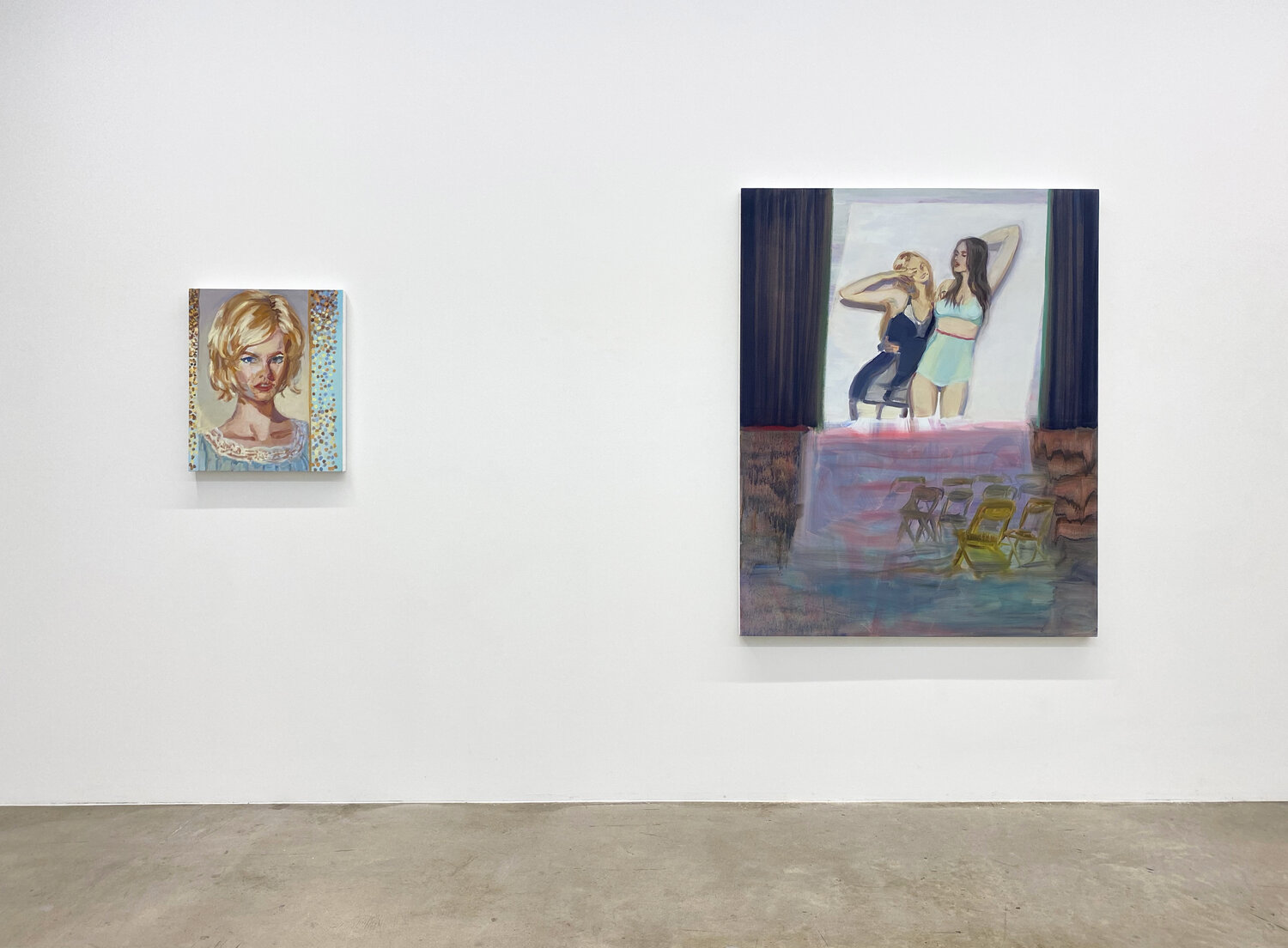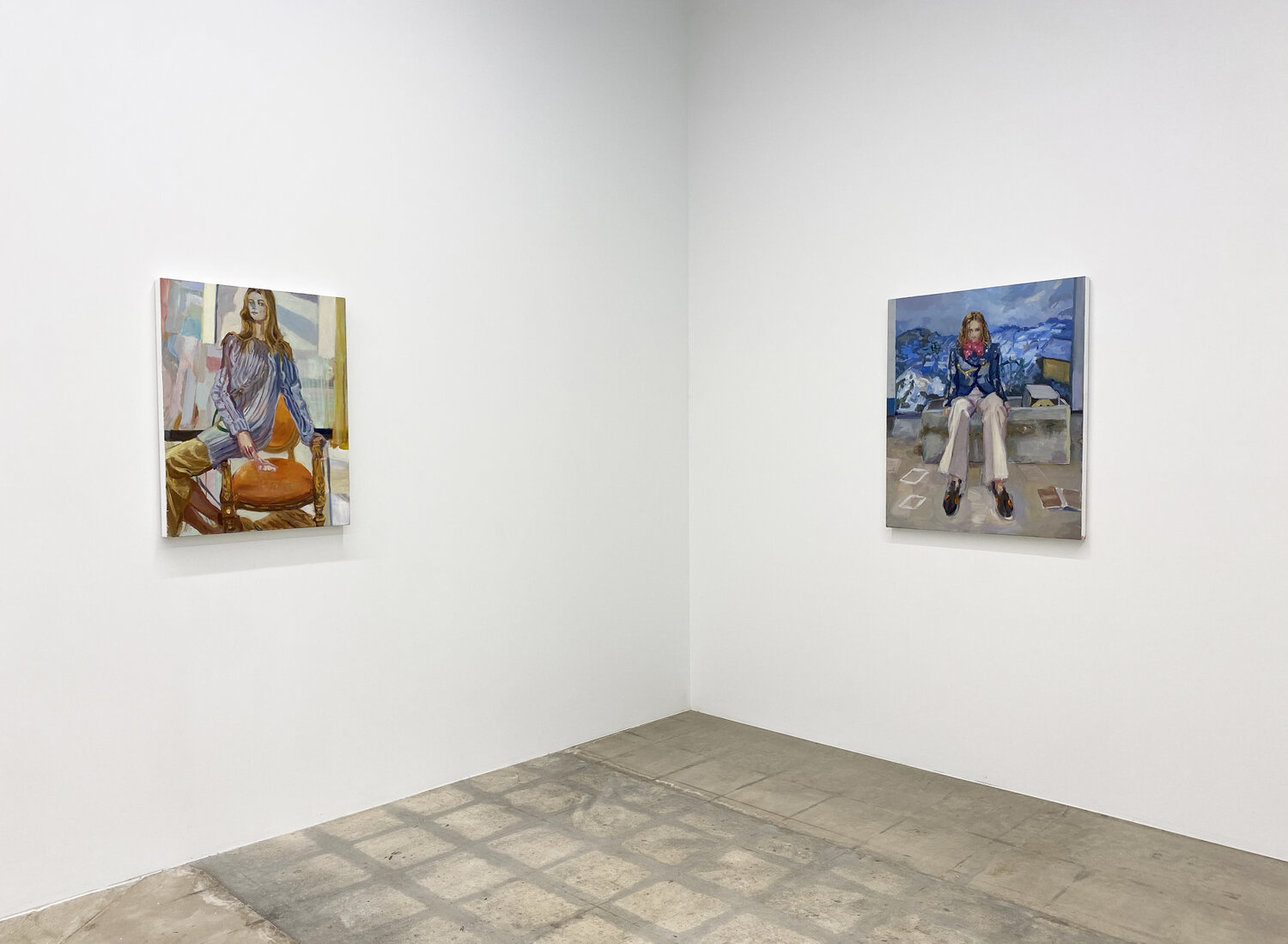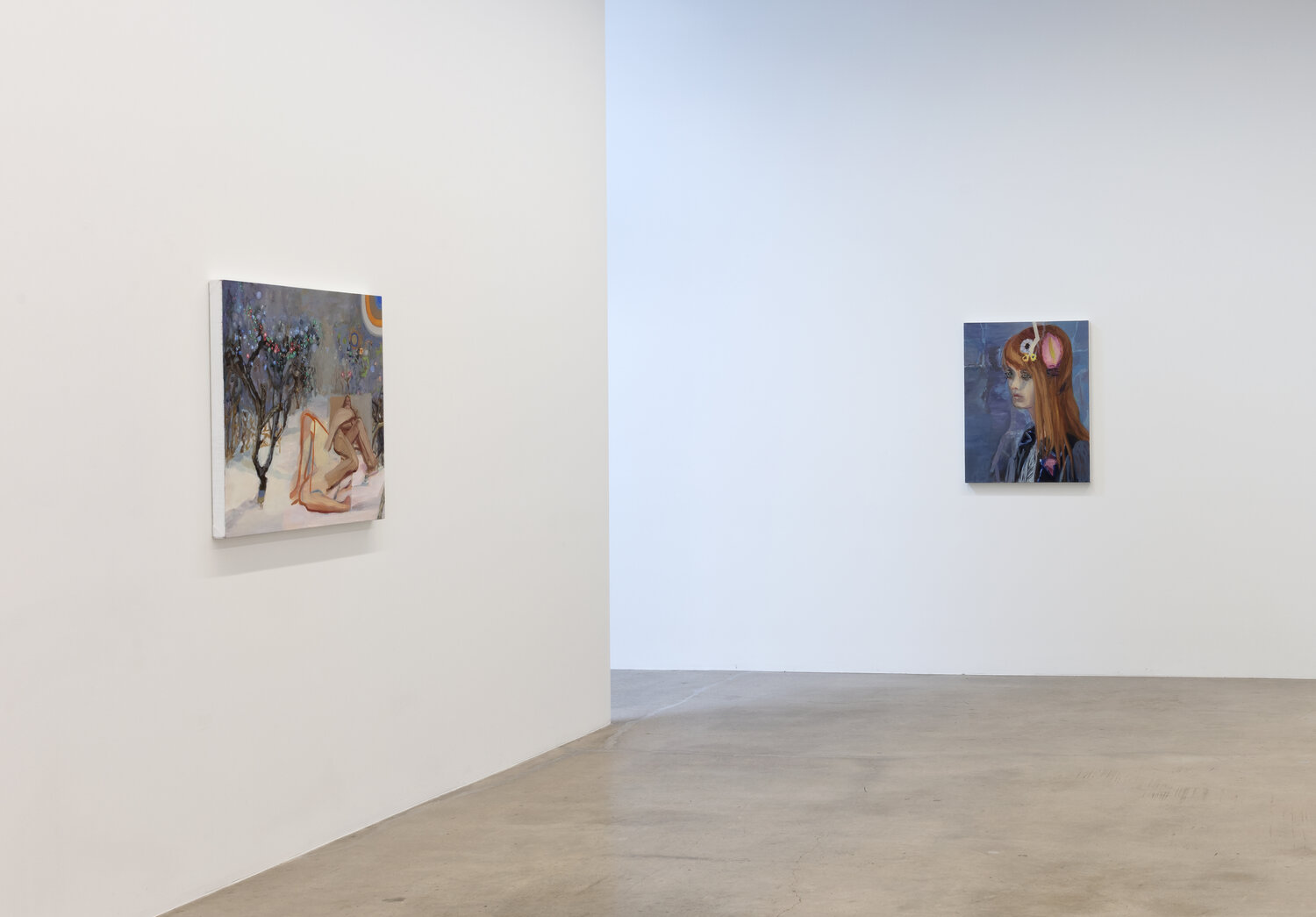 What follows is an abbreviated email correspondence between artists Keer Tanchak and Janet Werner several months leading up to the opening of their two-person exhibition, "Romantik", at 12.26.

Keer Tanchak to Janet Werner, Feb 10, 2021

Janet,

I agree with all your pictures and words. I joyfully prescribe to your vision from a distance.
It was strange timing to discover your work just after I left Montreal and I've been casually thinking about it as I've been over here orbiting another country.

And while we never actually crossed paths at Concordia, I feel like staying in touch with your work was the ideal tether to the art school and community that nurtured me and that I loved so dearly.

After asking for the opportunity to share a space with your work, and you so graciously agreed, I worried for these objects. Would canvas and metal know how to shake hands? Is this the weirdest play date?

I see how my work is being affected by the sensation of the time collapsing and the last few years being a social and political vacuum. The purpose of making pictures of women has grown increasingly simple and complex. Simple: here we are - still. And complex: our environment is a mess, even though we are increasingly alone, our spaces are more crowded. Extra limbs are falling out of rooms and beds while technology is searing full time in our heads.



From KT to JW Feb 24, 2021

...I have finally been jotting notes the past few days.

How do you know each other?

I find myself asking this to the different paintings I make. More frequently, finding a common thread between them is hard.

Recently, in reference to Janet, I was asked, 'how do you know each other?'.

It's the right question to ask. Especially in the context of a show that didn't conspire to a giventheme, title or subject ahead of time. This was a loose and distant interaction. But I was definitely hyper conscious of what it means to have a show involving two artists. What are the possibilities? Is it a comparison, a pairing? A study in commonalities and contrasts? What kinds of hierarchies are there?

Even though we missed interacting at Concordia university in Montreal where I was an undergrad student just before she came to teach, we were luckily introduced by a mutual friend on one of my return visits to Montreal. Janet's work has always stayed with me. I agree with all of her pictures and words.

We both paint pictures of women in voids or more
recognizable environments. Often their clothing is important. Sometimes we paint pets and animals. We both studied in the United States even though we are both Canadian.

Janet and I both work in a way that allows for the unfolding of content via a conversation with the medium. We both accept limitations of planning, and I would say we both take advantage of the unknown. There are times when I choose a subject because of the right mood or glance. Even if I don't capture it correctly in the act of working, I keep trying for a look that is not going to annoy me for life. I often think of British painter Frank Auerbach here. His constant rejecting and editing of likenesses and his search for the return of the subject as an indication that the work is finished has been a touchstone for me. The eye knows what it recognizes, remembers and cannot believe.

Like Auerbach feels, the surprise or 'newness' is the point.



From JW to KT, Feb 25, 2021

I liked reading through the correspondence below and again I like the way you speak about points of connection in our work.

this is nice:

Paintings as familial substitute. Paintings pouting and crying. Paintings never growing up. Paintings always needing to be what we needed as children. Paintings laughing as soon as they are done sobbing.

I am still meditating on How do you know each other?

or How do we know each other?

I like that it speaks to the idea of the paintings as persons (laughing, sobbing) recognizing each other as kin, familiar. And there is the larger sense, how do we humans recognize each other ? not just us personally .....



From KT to JW Feb 28, 2021

Good morning, Janet,

We are getting back a sense of calm again. We made soup and felt silly for the first time in a while last night.



From JW to KT Mar 12, 2021

Romantik.

It is actually a title I came up with because I was thinking that our work together would feel very romantic. and being purely romantic would be embarrassing but the k changes things. it's sharp (like cut metal) and stops the action, so what you thought was romantic is suddenly much harder - I liked the misspelling of the word. Unfortunately, it is an actual word in German and to Germans it probably simply means romantic in the usual sense, so I thought it wouldn't be good because there are people who speak German....even YOU and they will hear it differently. So what does it sound like to you? romantic in the regular sense? I kind of rejected it because it's a bit dicey, stealing a real word from another language that means something specific, different than in our language. I just liked the way it looked and sounded and how it altered the english meaning - Anyhow, Hannah & Hilary seemed to prefer it so I went along because titles are so difficult!! And perhaps the mistake is important --both the misspelling and the mistranslation --- might be keys to the contradictions and slippages inherent in our work and even in the pairing of our work.

***********************************

12.26 is pleased to present a two-person exhibition by Canadian-born artists Keer Tanchak and Janet Werner entitled Romantik.

Tanchak and Werner met in the early 2000's when they were introduced by their mutual friend, artist Allison Katz. Over the last two decades both artists' work and career have been inexorably linked through their shared interest in modern female portraiture and as well as their mutual affinity towards imagery from fashion magazines, pop culture and art history. This exhibition is the culmination of a two-year conversation between these two artists. Romantik presents an intimate dialogue of two dynamic female painters with a penchant for storytelling and dismantling traditional notions of portraiture, the "male gaze" and even painting itself.

Both artists present a fictitious female protagonist that is often face-forwarding, taunting and advancing. Utilizing the classic painter's tools of oil paint and a stretched canvas, Werner possesses a traditional approach to painting. Yet it is clear that Werner's figures are anything but typical. They are often depicted in displaced landscapes or unknown voids that may seem vaguely familiar, but not of this world. Most strikingly is the confidence and self-assurance in the women that Werner paints. The viewer is not invited to gaze upon the figure in the more conventional or romantic sense, but is rather challenged by what is directly in front of them.

Tanchak paints her subjects in a more classical style of portraiture, lending her subjects a distinct sweetness and vulnerability. This sweetness is swifty broken by her usage of sharp, odd-shaped, hand-cut aluminum as her painting surface, suggesting something more sinister might be at stake. After placing these women within irregular or jagged borders, Tanchak further confounds the viewer by presenting the figure in these unexplored worlds or voids. She challenges the viewer on how exactly to enter the painting, giving power to the subject as they, and the artist, are the only ones who hold the key to unlocking these unknown spaces.

These paintings at first glance may seem to offer us hints of classical romanticism, but Romantik suggests that there is a dark and surreal side of the saccharine.

Keer Tanchak (b. 1977, North Vancouver, BC) is a Canadian artist currently based in Dallas, TX. She received an MFA from the School of the Art Institute of Chicago in 2003 and a BFA with distinction from Concordia University in Montreal in 2000. Tanchak won the Artist Fellowship Award from the Illinois Arts Council in 2009 and the Brucebo residency in Visby, Sweden in 2003. She has exhibited extensively in Canada and the United States as well as in London, Switzerland, Dubai, and Mexico. Tanchak had her first solo institutional show at Dallas Contemporary entitled Soft Orbit in 2017. That same year, Tanchak was included in the Texas Biennial. Tanchak was featured at Conduit Gallery (Dallas, TX) in their project room in 2019. Romantik marks Tanchak's first exhibition at the gallery.

Janet Werner (b. 1959, Winnipeg, Manitoba) lives and works in Montreal, Quebec. She received her MFA from Yale University in 1987. Solo exhibitions include Musée d'art contemporain de Montréal, Parisian Laundry (Montreal), Anat Ebgi (Los Angeles, CA), Galerie Julia Garnatz (Cologne), Saidye Bronfman Centre for the Arts (Montreal), Whatiftheworld Gallery (Cape Town) and Plug Institute of Contemporary Art (Winnipeg). Group exhibitions include AXENEO7 (Gatineau), MASS MoCA (North Adams), Musée d'art contemporain (Montreal), Kenderdine Art Gallery (Saskatoon). A solo survey exhibition entitled "Another Perfect Day" organized by the Kenderdine Art Gallery, University of Saskatchewan, toured to five locations in Canada from 2013-2015. Werner's work is in the collections of the Musée du Québec, Musée d'art contemporain, Montreal, The Art Gallery of Ontario (AGO), Toronto, Owens Art Gallery, Sackville, the Canadian Embassy in Berlin, University of Lethbridge, Alberta, Winnipeg Art Gallery and numerous private and corporate collections. Romantik marks Werner's first exhibition at the gallery and in Texas.