Gray Wielebinski: Love and Theft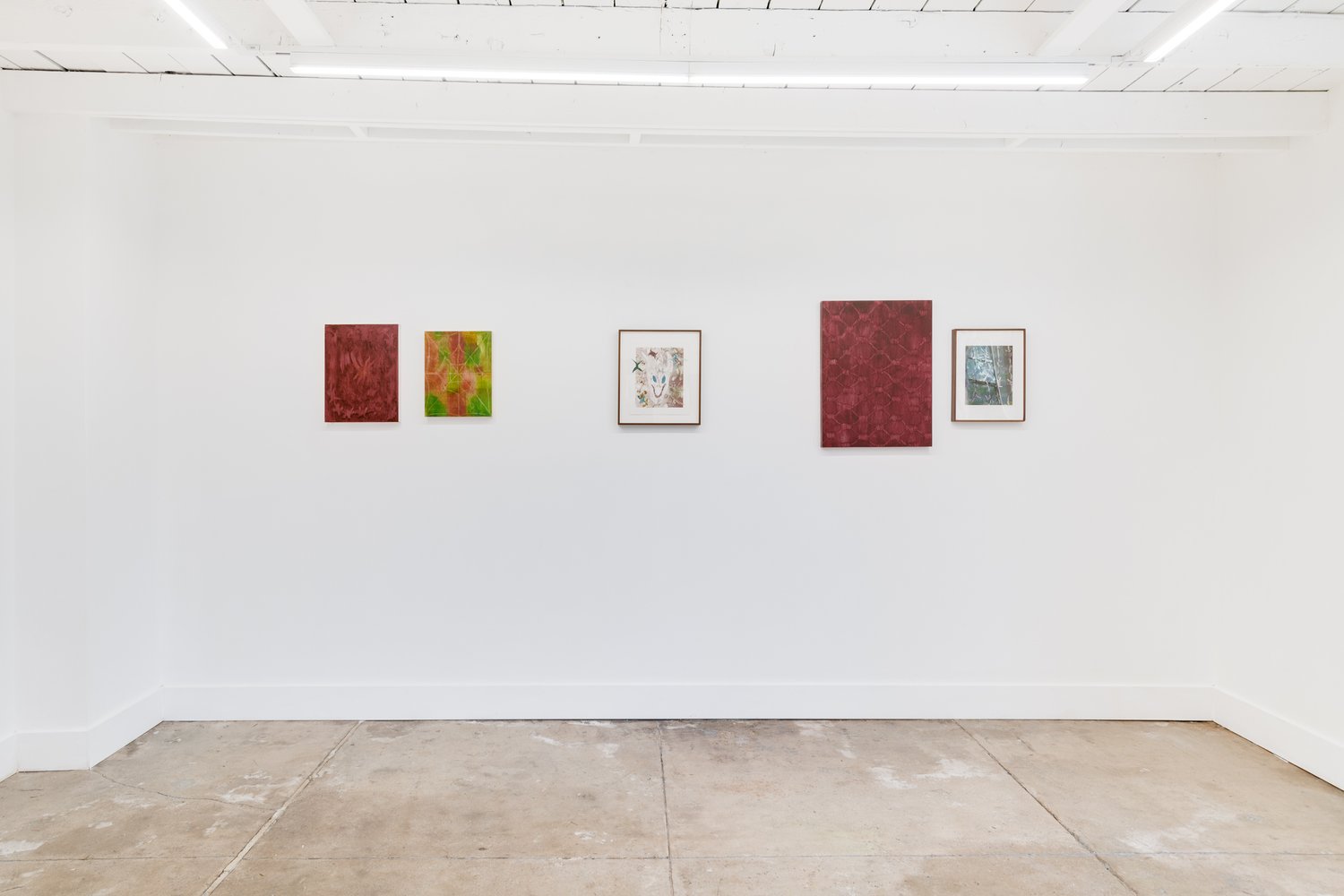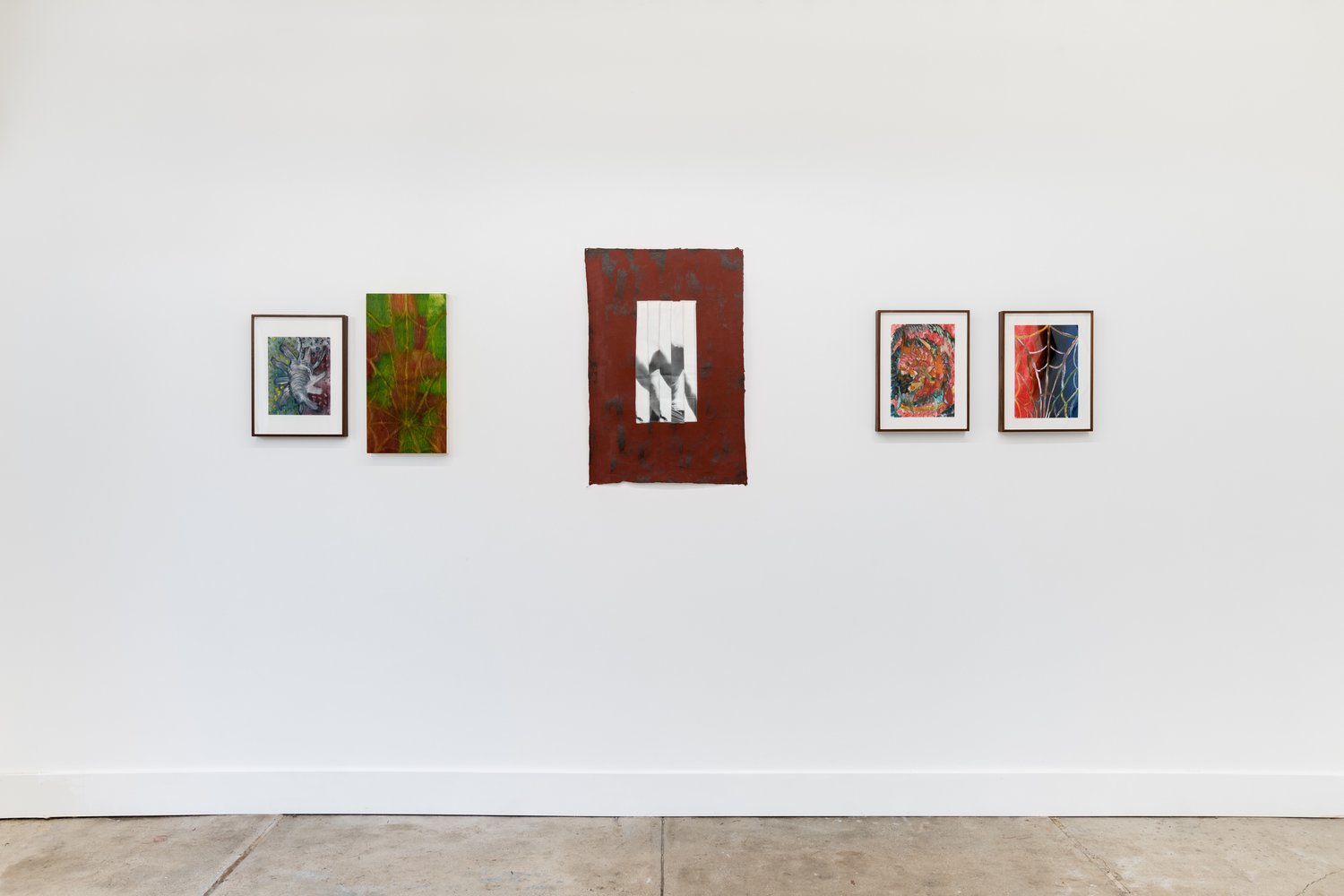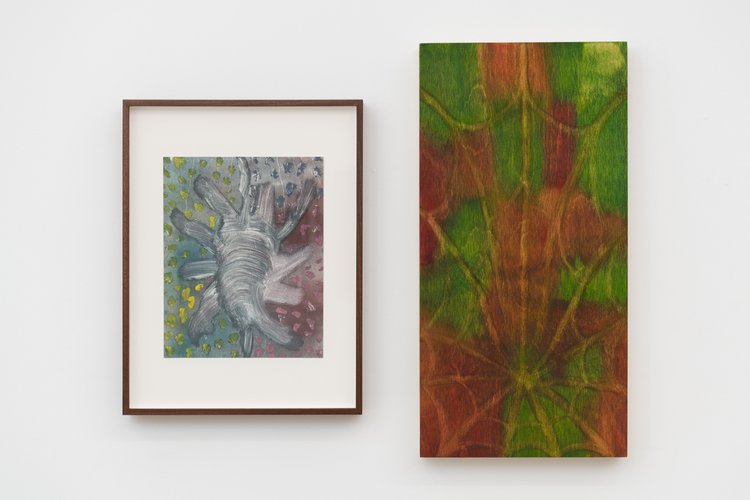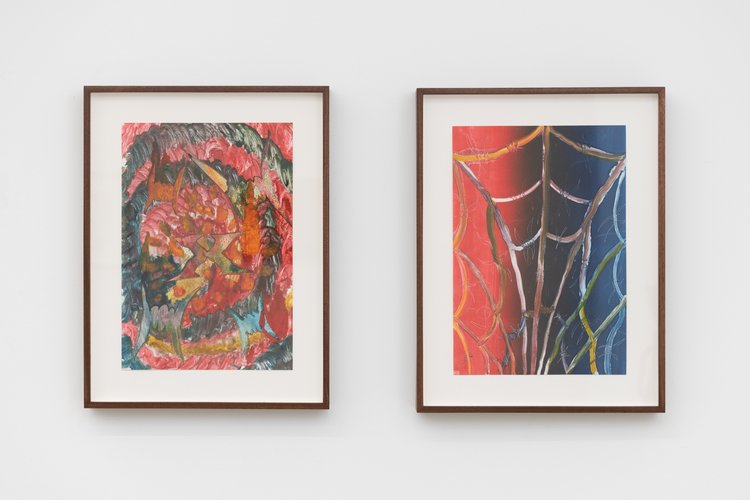 12.26 West is pleased to present Gray Wielebinski: Love and Theft. In Love and Theft, Gray Wielebinski develops his ongoing investigation into the mythological and material foundations of the nation-state. Its altar-like centerpiece evokes the romantic image of American farmland through use of two colors: falu red, the earthy tone typically used to paint barns, and chroma key green, used for green screen filming and reminiscent of the unnerving sheen of a perfectly manicured lawn. Overlaying these colors onto disassembled shopping bags from the quintessentially American retailer Abercrombie & Fitch, Wielebinski invites reflection on the physical and economic histories lying behind an idealized national identity. Both colors are tools for the creation of fantasy, albeit in starkly opposed ways. Falu red, a milk paint, reflects the organic tones of the Earth's landscape and is in this sense designed to operate as a non-color; chroma key green, on the other hand, is vividly unnatural yet made to disappear in the green screen process. The highly recognizable Bruce Weber-shot photographs adorning the bags, meanwhile, evoke the homoerotic undertones of normative masculinity.

Flanking Love and Theft's eponymous centerpiece are a series of prints that take Wielebinski's foray into the import of color to intense, dream-like heights. Through the medium of print, Wielebinski plays on the way particular images become enshrined in collective consciousness, denoting a sense of national identity. The exhibition's title, lifted from the scholar Eric Lott's canonical study of appropriation, captures the ambivalent feelings of desire, envy, delusion, and violence that undergird the concept of ownership. By manipulating these symbols—repeating, distorting, splicing, and recombining them—Wielebinski toys with the ideas of ownership and appropriation encoded in the show's title. Here Wielebinski extends his interest in the aesthetics of fencing and the history of barbed wire, the tool by which the American landscape was domesticated by European colonizers. We find barbed wire in both familiar and unrecognizable states, in one case enlarged to a point of terrifying majesty suggestive of a tornado (thus recalling the ultimate futility of settler attempts to gain mastery over the natural landscape). Love and Theft foregrounds the images that haunt us, the past that cannot be buried, and the mutual implication of violence and possession.

- Asa Seresin, 2023

******

Book Launch, February 11, 2023, 3 - 5 pm

Gray Wielebinski: One Hundred Baseball Cards
First Edition
Soft Back
108 pages

Gray Wielebinski's debut book 'One Hundred Baseball Cards' is grounded in the method of collage as a tool to resignify history, myth, and meaning. Taken from the artist's childhood collection, the book's altered baseball cards evoke issues of feitshism, masculinity, and national identity, creating new forms of embodiment and playful manipulations of value. The book also includes an introduction by writer and researcher Asa Seresin.

The exhibition will coincide with the inaugural book launch in the United States and will include a reading by Asa Seresin of his foreword as well as in conversation with the artist and Ana Howe Bukowski.

BIOS:

Gray Wielebinski (b. 1991 Dallas, TX, USA) received a BA from Pomona College, Claremont CA, USA in 2014 before completing an MFA from the Slade School of Fine Art, London, UK in 2018.

In Wielebinski's expansive practice, incorporating video, performance, collage, installation, sculpture, and more, he explores the intersections of mythology, identity, gender, nationhood, and memory.

Recent exhibitions include Raw Nerves at Hannah Barry Gallery, Frieze London 2022 with Hales Gallery, Bold Tendencies 2022 program, Testament at Goldsmiths Centre for Contemporary Art, Oil and Water, a solo show at Hales Gallery in London, By Any Means, his first curated show at VO Curations in London, and Two Snakes, a solo show at 12.26 Gallery in Dallas, Texas (2020). Recent residencies include V.O Curations, City and Guilds in London in 2021 and 2019 respectively and at the Academy of Visual Arts in Hong Kong in 2018. His work has been written about extensively, most notably in ArtForum, The Art Newspaper, AQNB, Ocula Magazine and the Hammer Museum Graphite Magazine.His first book "100 Baseball Cards" was published with Baron Books in 2022. Wielebinski's work is in the collections of Los Angeles County Museum of Art, CA, USA and San Francisco Museum of Modern Art Library & Archives, CA, USA.

Asa Seresin is a writer and researcher based between Philadelphia and London. His work attends to the intersection of gender, sexuality, and genre, with a particular focus on heterosexuality and cultures of heteronegativity. His writing has been published in Spike, Cabinet, and The New Inquiry, and he has given talks at the University of Amsterdam, the Estonian Academy of Arts, and Diffrakt: Zentrum für Theoretische Peripherie, among other places. He is a doctoral student in English and Gender and Sexuality Studies at the University of Pennsylvania.

Ana Howe Bukowski is a writer, educator, and researcher based in Los Angeles. Their work has been published in popular and academic outlets including Canadian Art, Spectator, Celebrity Studies, and the International Journal of Communication. They have collaborated extensively on special projects for artists and entities such as Byredo, Nike, Awake NY, UNION LA, Virgil Abloh, and the Miami Design District. Ana is currently writing a dissertation on histories of public access television in Los Angeles County c. 1974-1984 in completion of a doctorate in Communication at the University of Southern California.